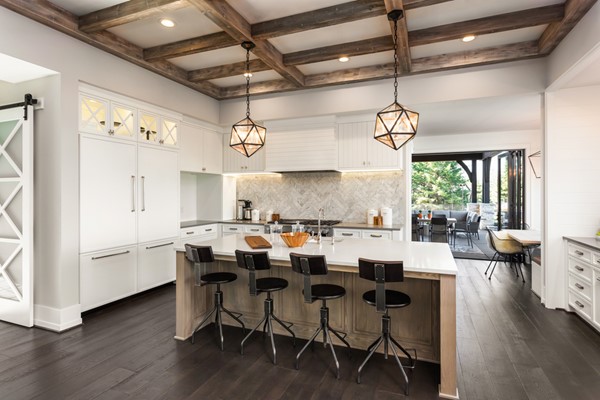 To impress guests, your décor needs to be outside the box in a tasteful way. If you're tired of getting the same polite applause and want to drop your visitors' jaws (metaphorically), conventional patterns and colors won't do. Read on if you're a little short on ideas and need something to reawaken the creative you.
Hang eye-catching pendant lights
Interior design aficionados often say that a home's look and feel can be made or broken by choice of lighting. Pendant lamps exude an air of light fixture sophistication besides being a great talking point. Pick fixtures with a quirky design that grab visual focus and give your flat a rustic charm.
Consider an open plan interior design
For foyers, strong impacts are created by open plan designs, as suggested by multiple leading interior designers. This gives the home an appearance of being spacious and airy, especially to smaller spaces.
Add some shine
You can add shine through the use of decorative pieces created using stainless steel or brass, bronze furniture or crystalline accessories. Metallic glows, and glassy glints sprinkle pizzazz to any room; your guests are guaranteed to be floored.
Decorate using large plants
Plants are good for the environment but even better for your décor. Whether inside or outside, they have a soothing, relaxing effect on both the eye and the soul. Dotted with large potted plants in strategic places, your home will become a green haven that guests will never want to leave. This is a clever design concept that will do little damage to your wallet.
Art displays as conversation pieces
A home's color palette can be significantly enhanced using art installations. They run the range in prices, so choose what fits your budget best. Aim for pieces that speak to your heart, pieces that will keep your home on every visitor's lips, even those without a cultured eye.
Pick inspirational colors
Speaking of art, did you know that color schemes can make or break a room's feel and look? Aesthetically appealing color patterns improve the mood in any setting and add verve to your home. If you wish to relax the minds of the home's inhabitants and guests, go for neutral colors like soft brown and ash gray. If you would rather stun them, paint your walls solid green and contrast them with retro orange furniture.
Keep an eye out for the themes, colors, and types of accessories used next time you watch your favorite TV series.