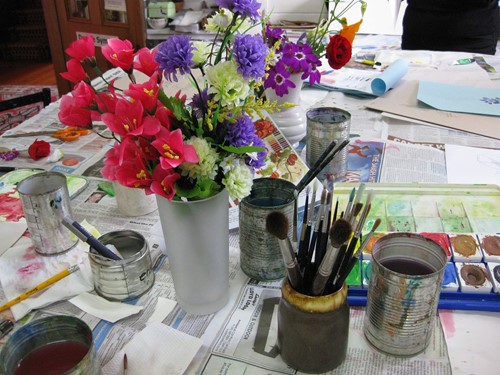 The living room is one of the most flexible rooms in the home. As you seek to complete your living room design, consider DIY living room decor projects. These are 7 creative DIY living room decor ideas that could be incorporated into any home:
Faux Fireplace
Not every room is equipped with a natural fireplace, but that doesn't mean that you have to miss out on the ambiance. You can use an empty wall and spare wood to craft a fireplace and mantel structure on the wall. There are several ways that you can fill in the faux fireplace, such as slicing wood logs or adding whitewashed brick as a background.
Accent Tray
An accent tray is a piece of living room decor that is both interesting and functional. It can add depth to any table space and allow you more flexibility for adding in the details. You can create your own accent tray using a variety of materials, such as an old frame, a vintage tray or a piece of a mirror.
Painted Vases
Vases with flowers can be incorporated into any living room, regardless of the style or theme that you are going with. One of the easiest ways to customize your living room decor is to take your old vases and paint them to give them new life. You have total freedom with this project and can paint using the colors, designs and styles that will look best in your room.
Accent Letter for a Wall or Shelf
Accent letters instantly personalize any living room. You can be flexible with both the size and material of your accent letter. Handcrafted wood letters are popular, but letters wrapped in textiles are trending as well.
Customized Candles
Candles add a sense of warmth and comfort to the living room, and these minor details can be transformed into perfect accent pieces when you DIY them. You can customize your candles by painting the jars, wrapping twine around the candles or using ribbon as a simple touch of color.
Personalized Lanterns
Lanterns of all shapes and sizes have been trending for a few years now, but one of the best ways to incorporate them into your living room decor is to personalize the interior of the lanterns with your own favorite supplies. From fairy lights and candles to succulents and rock gardens, you can create a lantern that stands alone as its own piece of decor.
Upholstered Throw Pillows
Customizing your existing throw pillows by reupholstering them or adding beading is one of the easiest living room DIY projects to take on. You will be surprised to find what a big impact these small pillows have on the overall look of your room.