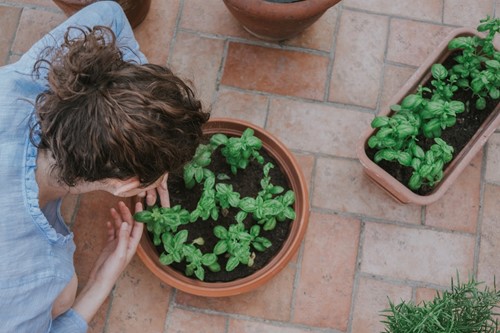 Container planting is an excellent way to enjoy gardening without a lot of outdoor space. You can grow flowers, greenery and even vegetables in planters on your porch or patio. While you can find a wide variety of traditional pots and planters at your local garden store, it's not always clear how best to arrange them. Here we'll share some tips for a variety of different outdoor spaces so you can create a look that's all your own.
Go Vertical
Vertical planters are the perfect way to add flowers and greenery when you have limited space. There are several different ways you can set up vertical planters, as well as plenty of ready-made options available for purchase. One popular DIY option is to use a wooden pallet and hang individual small pots from hooks in the empty slats. This option gives you the freedom to move plants around as needed, as well as add in new ones to update the look.
You can attach multiple hanging pots together for a multi-tiered look. This works best if you can hang the plants from an overhang or a metal bracket attached to the wall. You can find some multi-tiered plant hangers on the market or make your own. Just be careful that the material you use can support the weight of the pots, soil and plants inside.
Plant on Every Step
Whether they lead to your deck or to your front door, stair steps are a great place to showcase outdoor plants. Arrange several small containers on each step, either on one side or both depending on the width of the steps. You can use containers that match in color and size for a neat and traditional look, or go for mismatched planters for a more casual vibe. As long as the containers aren't impeding traffic, the choice is yours.
For stair-step planters, vibrant flowers are an excellent choice. One idea is to alternate back and forth between two colors. You can also mix different plants into the same container to create lush and colorful combinations. For safety, it's a good idea to stick to low-growing plants that will not trail or overhang onto the path of the stairs.
Opt for Unexpected Containers
One hot trend to try regardless of how much space you have is using unexpected objects as planters. Some great examples of larger DIY planters include wheelbarrows and vintage claw foot bath tubs. As long as you add adequate drainage to the bottom of these containers you can plant lots of things in a bold and funky way that's still compact. For smaller spaces, try converting watering cans, old rain boots or tool boxes. With some minor adjustments, you can turn practically anything into a container for your plants and flowers.
If you don't want to DIY, it's easy to find fun and unique planters at thrift stores or through online sellers. Many have taken these ideas and done the work for you by adding drainage, special interior coatings and more to household objects like those mentioned above.
These are just a few ideas for adding plants to your patio or outdoor space. In planning your container gardens, the most important factor is available space. Always make sure you have enough room to move around even the most creative arrangements for safety and ease of plant care.